LET SEE WHAT THE WINNER OF "YOUR TEACHERS - YOUR FRIENDS" CONTEST WROTE IN HER TEST
2018-02-05T00:51:09-05:00
2018-02-05T00:51:09-05:00
http://thptphuquoc.edu.vn/cac-cau-lac-bo/let-see-what-the-winner-of-your-teachers-your-friends-contest-wrote-in-her-test-39.html
http://thptphuquoc.edu.vn/uploads/news/2018_02/hinh.jpg
Trường THPT Phú Quốc
http://thptphuquoc.edu.vn/uploads/baner-thpt-phu-quoc.jpg
"I consider myself lucky to have been taught by many good teachers throughout my academic years. However, one of the most teacher I respect is Mrs Huong.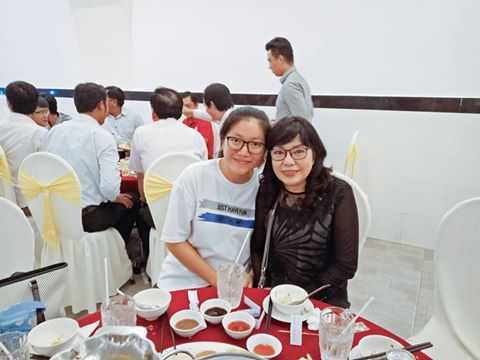 Mrs Huong is my homeroom teacher in this year and she teaches us Literature. Personally, she is well-proportioned with fair complexion, rosy cheeks and dark-brown hair, which easily catch the eyes of the passers-by. One interesting thing about her is that she always wears nice clothes which make her look elegant and younger than her age. Her husband is a doctor. Mrs Huong's family is properous but she dreams of being a teacher which is a low-paid, pressure job. That explains why she always prepares carefully for each lesson before she teaches at school. Undoubtedly, she is so attentive, caring, patient and extremely passionate about spreading knowledge. In addition, she is such a devoted and responsible teacher that she often takes care of us, even the smallest thing.
She has just taught my class for two months but we have lots of memories. One of them is the last day of the practice before the performance of the New School year Show. This was a chance for us to perform our dance in school and made it become one of the most wonderful memories we had together. On the last day of the practice, Mrs Huong arrived. Unfortunately, it started to rain. However, none of us went home, even Mrs Huong.
The rain became heavier. We only had one raincoat so we use it to cover our speaker and shade the girls from the rain. Mrs Huong approached me and gave me her raincoat. It was obvious that she only had one raincoat. I refused persistently, but she said she still had an umbrella. Then, I decided to take the raincoat and give it to the girls. However, one was not enough for all.
Mrs Huong did not say a word. She put the umbrella in my hand. Subsequently, I entreated her not to give us her umbrella because I knew she had nothing left to protect her from this rain. Mrs Huong was not as strong as us. I was afraid that she would have been sick if she did not have the umbrella. She smiled and said she still had her helmet so she would be alright. More than that, she did not want to see anyone of us got sick.
"A helmet? Seriously? What can a helmet help under a heavy rain like this ?" I thought. I stood transfixedly with surprise. Honestly, at that moment, I was speechless and I was touched by the solicitude of her. After having talked for few minutes, I still could not convince her. I gave the umbrella to the girls and stood next to Mrs Huong under the rain. My class advised her to go home, but she insisted to stay with us. Both of us were wet. Then, we decided to perform all the dance to Mrs Huong before the weather became worse. We gave back to her the umbrella and started dancing. It rains cats and dogs. My class was dancing with smiles while Mrs Huong was sitting and watching us. That was such a memorable day.
It appears to me that Mrs Huong had an attractive and impressive personality. I have learnt a lot from her and I find myself much more mature in thoughts and in the way I acknowledge this world. I am quite lucky that I have such a great form teacher like her."